With some help from some helpful guru's I am declaring this year 2012, a health-filled year! From head to toes I am working on all over body health.


  Setting goals of quiet outdoor walks, listening to more music, weekly heathy meals, routine of daily tasks, and more Momma time! I recently fell in love with some words of wisdom from my favorite blogger creative goddess and bliss-filled Momma, Kathy Stowell.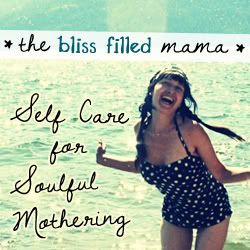 Kathy has written a wonderful ebook filled with insightful information on how to get us Momma's back on track and be the Momma's we want to be. She also offers her ebook on MP3 which I listened to on my way back from visiting my Momma in South Carolina. I vowed to myself to listen to this every month of this year so I can keep on the Bliss-filled Momma groove!
 She is offering one of her ebooks/MP3 to one of my reader's! I will be picking out a random reader the morning of Friday February 17th! More this week on this fabulous, insightful ebook!
Comments Closed Victoria is our E-book Giveaway Winner!